Richard Belshoff
Research
13 - Commutative rings and algebras, and
16 - Associative rings and algebras,
American Mathematical Society (AMS) Mathematics Subject Classifications
List of Publications.
Latest publication: Algebraic Geometry: A Problem Solving Approach
Teaching
Currently teaching
Recent past courses
MTH 138 Precalculus (Fall 2012)
MTH 570/670 Combinatorics (Summer 2012)
MTH 532/631 Introduction to Abstract Algebra (Spring 2012)
Miscellaneous/Expository Works
Wallis' product. A talk given to the student chapter of the MAA at Missouri State University.
Contact information
Postal Address

Department of Mathematics
Missouri State University
Springfield, Missouri 65897

Email

RBelshoff at MissouriState.edu

Telephone

Office: (417) 836-5374
Fax: (417) 885-1208

Office

Cheek Hall 71M
---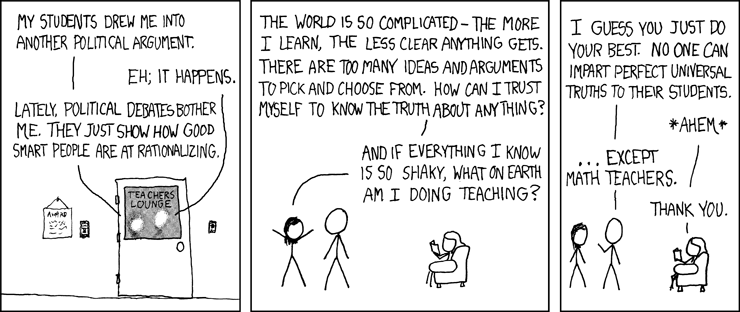 This comic taken from xkcd.